I chose the name "Kids First" because I believe that that is where the emphasis of pediatric care should be. I believe in establishing a true medical home, where patients and their families feel that they are valued and where care is available when needed. There are quite a few pediatric practices in the United States called Kids First Pediatrics but we are not affiliated with any of those. We all have pediatrics in common, but you will find that we are quite unique in our approach.
--Dr. Roxanne Allegretti
I established Kids First Pediatrics of Stafford in 2013. I have been a pediatrician in private practice in the Stafford/Fredericksburg area since 2000. Prior to that, I was in private practice in the Salinas/Monterey, CA area from 1998-2000 and before that, I was a Navy pediatrician serving Marine children in 29 Palms from 1994-1998. Since I began my pediatric residency after graduating from the University of California, San Diego in 1991, I now have over 30 years of pediatric experience. In addition to well child care, I have experience with many chronic health issues, behavioral problems, mental health concerns, and ADHD. If I do not have the expertise needed when something comes up with your child, I will help you find the appropriate specialist and co-ordinate care with him or her to achieve the best possible outcomes as a team.
---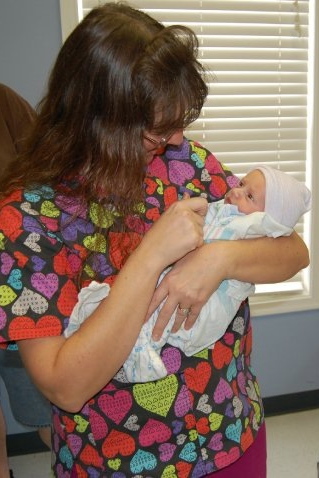 Tina Meadows, LPN is our Nurse Manager. She completed phlebotomy school in 1997 at Northern Virginia Community College, and then her LPN in 2001 at Germanna. She has worked in family practice, internal medicine and geriatrics. She has over 15 years of experience in pediatrics and in working with me, so we are a great team! She loves being a pediatric nurse, and it shows. All of our patients love her, even when she's given them shots for years. Like me, she is a working mom who breastfed and who completely understands being up all night with a fussy baby and then having to function the next day. We love our jobs and consider it an honor that people trust us with their most precious gifts, their children.
---

Jennifer Williams is our Office Manager, and started with us on our opening day. I've known her for 14 years and our patients really appreciate her smiling face and cheerful willingness to help. Jennifer has a degree in accounting and many years of experience in medical offices. She can often help out with any billing inquiries, referrals or insurance issues.
---
Robin will be leaving us at the end of July 2022 to join the Air Force. The USAF is very lucky to have her, but we are so sad to see her go. It's been a great two years having her with us!
This is from Robin:
"Dearest patients and families,
I have very much enjoyed caring for you over the last 2 years and I am beyond thankful for the appreciation I received from those of you who voted for me as best NP in FredParents' Family Favorites. This recognition is bittersweet, as it is with much sadness that I announce that I am leaving the BEST pediatric practice and the BEST pediatrician of my very own children, Dr. Allegretti. My last day at Kids First will be July 29th. I will be joining the US Air Force and continuing my journey as a nurse practitioner. Thank you for trusting me with your wonderful children. I will surely miss them!
---
Kids First is different than many pediatric offices you may have experienced in the past. First, it is a small office where we want you to feel comfortable and relaxed. Patients are seen by appointment only, but we will make every attempt to accommodate your schedule. When you make your appointment, you can take care of any co-pay by phone if you wish, and update personal information online as well, so that when you get to the office, we can immediately take care of your child and forego any paperwork.
Appointments are longer than in traditional pediatric offices, so that all questions can be answered without spilling over into the next appointment's time slot. Of course, emergencies occasionally happen, but limiting the number of patients we see allows more individual attention and less chance of long waits due to emergencies. We understand that you don't have time to call and be put on hold for 10-15 minutes to ask a question or make an appointment. Once enrolled in our Patient Portal, you can request appointments, medication refills and forms by email. You also will be able to email me or other staff members questions that do not require an office visit. After hours, I can be reached directly by phone for urgent matters. There will be a small fee for after hours calls, but it will save parents time and money by avoiding urgent care and ER visits.
We want all of your experiences with our office to be the ultimate in customer service, including the website, scheduling, the facility, care from your nurse and physician, billing, phone or email interactions and the patient portal. Help us be a FIVE STAR office by notifying us of anything you experience that's less than stellar. Of course, we'd love to hear the good stuff too!
"LIKE" US ON FACEBOOK and our closures for inclement weather, announcements and interesting pediatric news will show up in your news feed.